Let's start this month of delium culinary with a simple apple cake.
Soft, moist, scented.
Where the longest and most boring parte in its realization is to pell off and cut the apples 🙂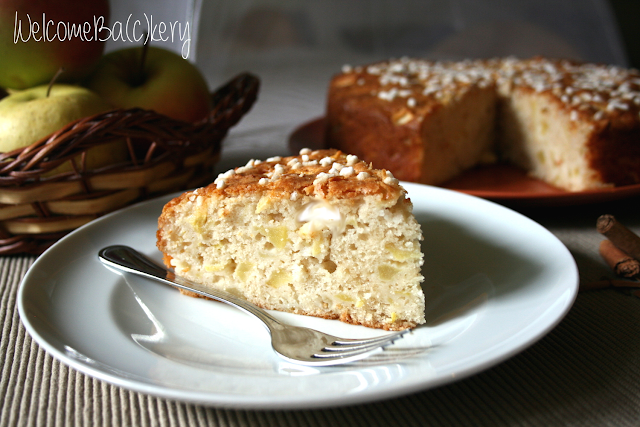 There's not much to say: is always good.
And helps the yogurt that are dying in the fridge to have a respectable end 😉
Lemon zest, a sprinkle of cinnamon and the taste of home is served.
Apple and yogurt cake
Ingredients for a 25 cm pan:
300 g flour
180 g sugar
2 eggs
3 apples
one lemon's zests
250 g plain yogurt
100 ml seeds oil
16 g baking powder
cinnamon
grain sugar
Peel off and cut the apples in cubes, wet them with some lemon juice and set apart.
In a bowl beat the sugar with the eggs, a pinch of salt and the lemon's zest.
Add now the yogurt and the oil, beating at minimum speed.
Then add the sifted flour, the baking and some cinnamon.
Mix and add the apple lightly floured. Pour the batter into the greased and floured pan, sprinkle with grain sugar and bake at 180°C for about 40 – 45 minutes. Let cool down on a wire rack before serve.