Chocolate? Everyday 😉
Mostly on its own, but – as you can see – often it goes also into some sweet.
It pairs well with everithing.
Expecially with the chestnuts…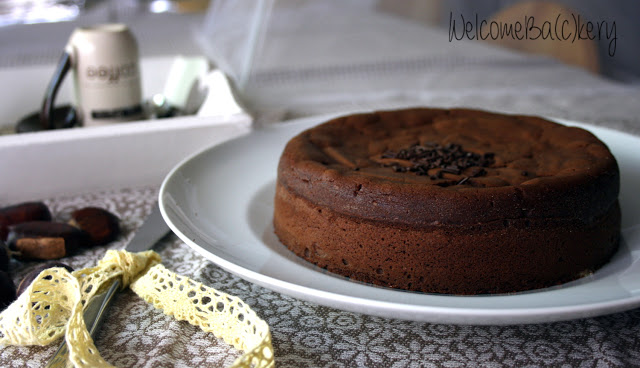 This little cake is really a pleasure: the smooth texture and that chocolate taste rounded by the sweet of the chestnut spred…
I am a very fan of both ingredients and it's like to have a slice of heaven in my dish… And it is really simple: you have just to mix ingredients, nothinhg even to beat. For a break with coffee or tea or for dessert, with a spoonful of whipped cream!
Chocolate and chestnut spread cake
Ingredients for a 18 cm pan:
400 g chestnut cream
80 g butter
80 g dark chocolate
2 big eggs
1 Tablespoon brimming with flour
Melt the chocolate with the butter and let them cool down.
Put in a bowl the chestnut cream and add the melted chocolate. Now add the eggs and the flour and stir well.
Pour the batter into the greased and floured pan. Bake at 180°C for about 40 – 45 minutes. Keep in the fridge.