I didn't understand how it went from what was supposed to be a mousse to a tart with cream, I just wanted to use that pair of egg whites that had been in the fridge for a few days, and I found myself with a tart. And since in the fridge besides the egg whites it was full of strawberries, voilà: you see the result!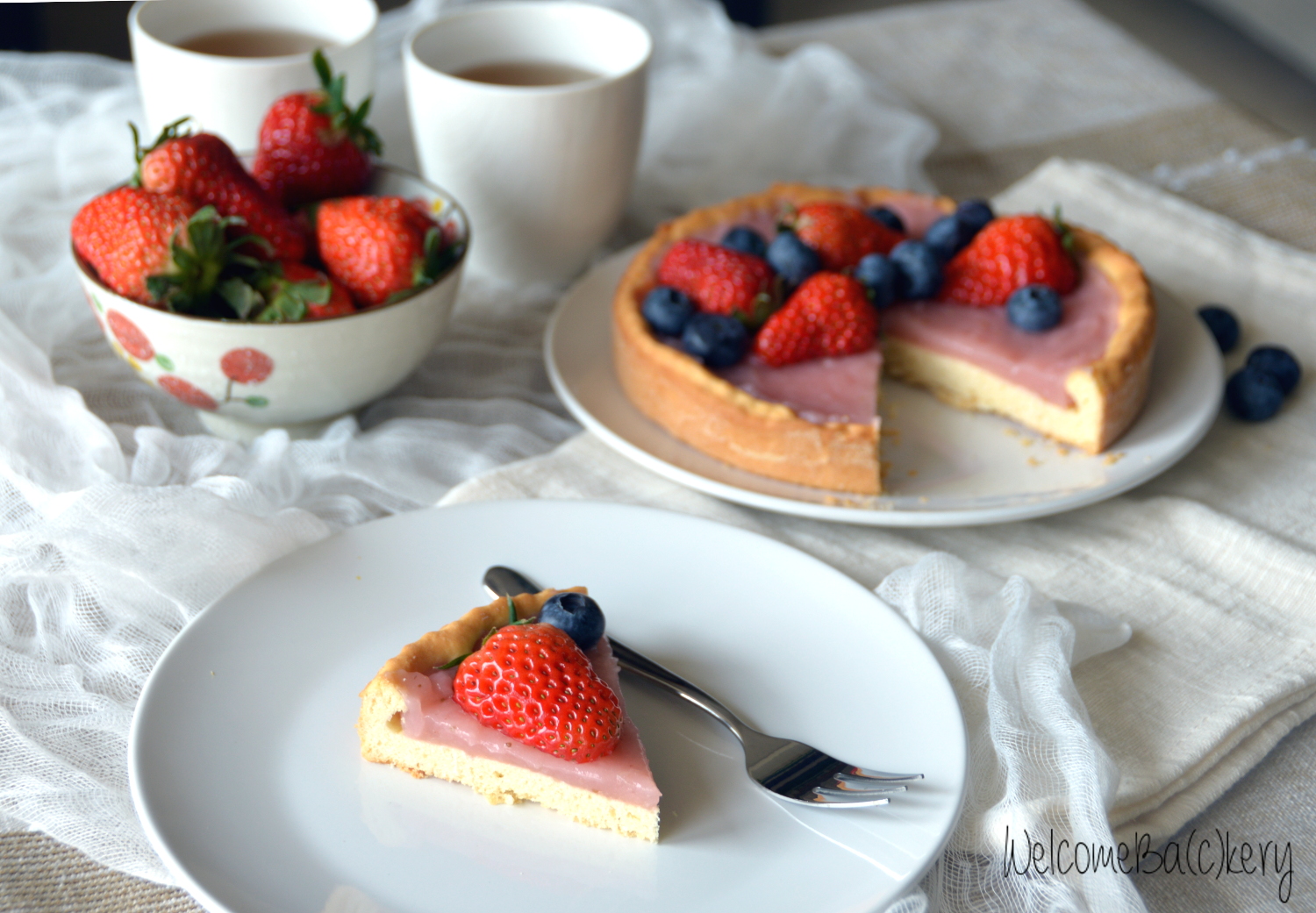 A pastry shell prepared with egg whites only, soft and scented with vanilla. And a very simple cream, delicious and fresh, prepared with many strawberries, with a color and a flavor that are a hymn to spring. I served it as a dessert after a dinner with friends and then again at breakfast, by popular demand.
Obviously for the shortcrust pastry you can use your favorite recipe: this with just egg whites is softer, less biscuit than the classic one, but I was still pleasantly satisfied, despite my difficult tastes regarding this base. And decorating with lots of beautiful tufts of whipped cream is also perfect as a birthday cake.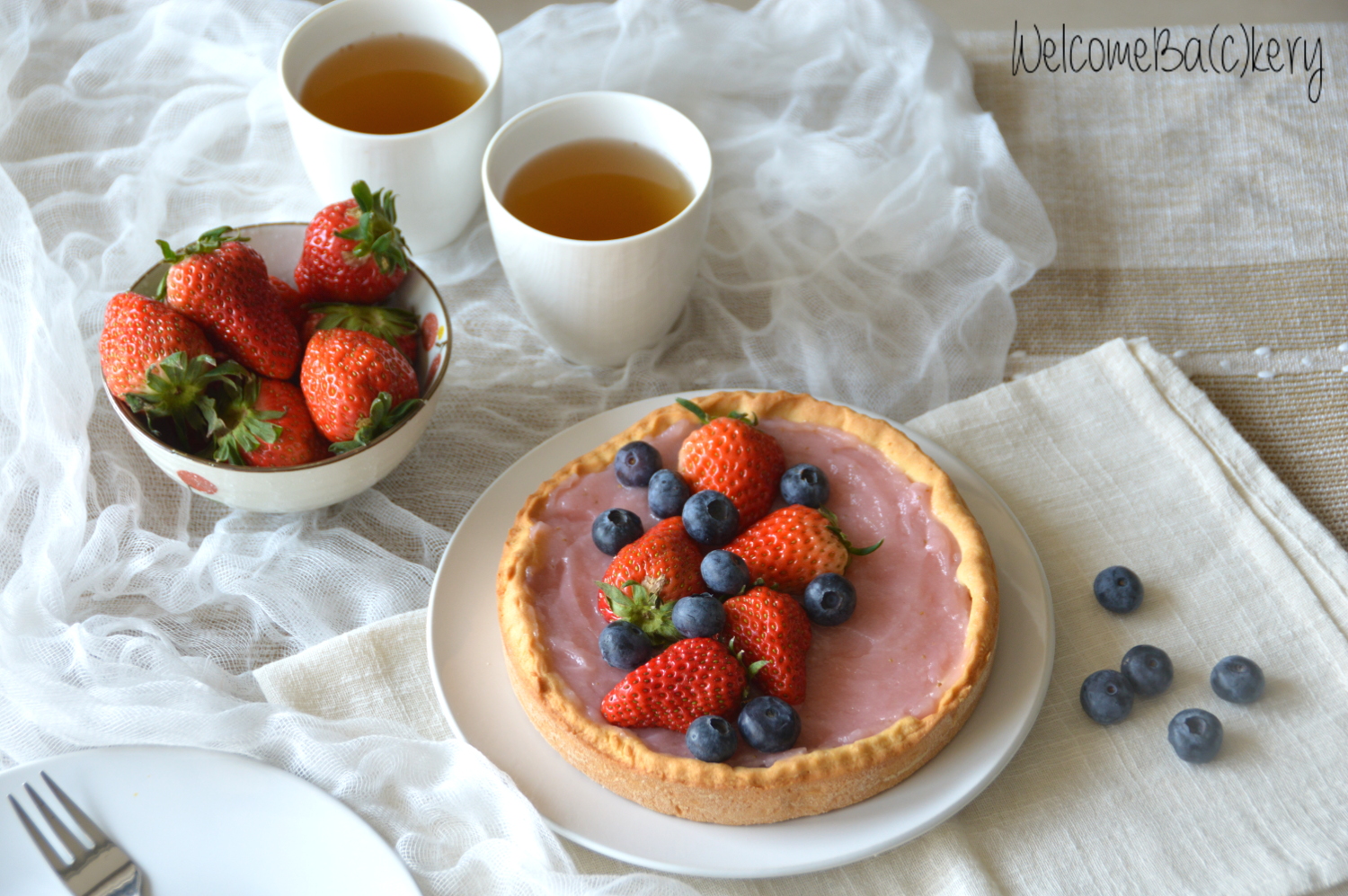 Strawberries cream tart
Ingredients for a 22cm pan
for the shortcrust pastry with egg whites:
300 g all purpose flour
100 g butter, cold
100 g powdered sugar
2 egg whites
1 teaspoon vanilla extract
1/2 teaspoon baking powdere
for the strawberries cream:
250 ml water
130 g sugar
50 g corn starch
150 g strawberries. cleaned
25 g butter
to decorate:
Let's start preparing the cream. This step can also be done the day before. Blend the strawberries with the immersion blender, if you want you can sift to eliminate the seeds, I didn't. In a saucepan, mix sugar, starch and water, add the strawberry smoothie and place over low heat. Then cook stirring constantly until the mixture has thickened, then turn off the heat and add the butter, stirring to melt it. Transfer to a plate, let it cool, cover with plastic wrap and refrigerate.
Now let's prepare the shortcrust pastry. Sift the flour and baking powder into a bowl. Add the butter in small pieces and start to work it all with your fingertips, until you have a crumbly mixture. Now make a well and add icing sugar, egg whites and vanillin, knead quickly until you have a smooth and elastic dough. Wrap it in cling film and let it rest in the fridge for an hour.
Once the time is up, take the dough again and roll it out with a rolling pin on the lightly floured table until it is about 4 mm thick. Cut out a disc and place it in the mold with the bottom covered with baking paper and the buttered and floured sides. Adjust the edges well and prick the flask with a fork. Place a disk of baking paper on the pastry and cover it with dried beans or rice, for cooking in white. Bake in the oven at 180 ° C for about 20 minutes, remove the baking paper with the beans and return to the oven for another 8-10 minutes. Allow to cool.
Put the pastry base on the serving dish. Pour the strawberry cream on the base and spread it over the entire surface. Decorate to taste with fresh fruit or whipped cream. Store in the refrigerator for up to three days.