When you change Continent, you don't immediately think of all the little implications and changes in your daily life. Like Autumn. Here in Shanghai it's hot, parks and avenues are still green and osmanthus in bloom. Its scent invades the city at this time, just open the window and its sweet and intense smell invests you immediately, it's wonderful. But walking in the streets you can smell another, incredibly familiar fragrance: roasted chestnuts! I didn't think of chestnuts at all, but here they are looking at me from the market stall, pretty big, shiny and irresistible. Good. In addition to having a snack by walking I can also think of a recipe on the subject. And so here are some nice capresine full of chestnuts!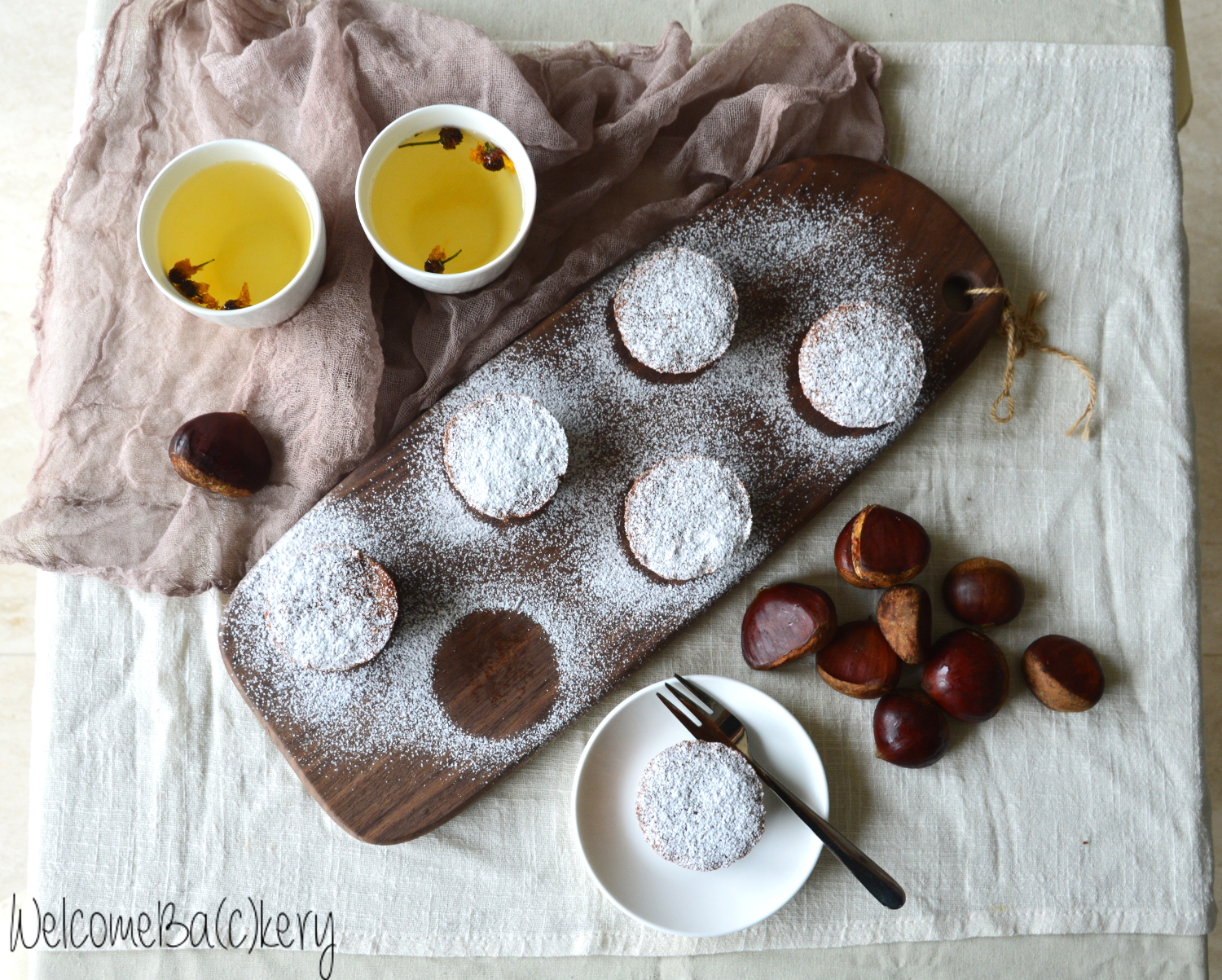 This sweets are fondant and moist, where the chestnut flavor is intense. Easy to prepare they are also without yeast and flour, so perfect for those with intolerances. I find the raw chestnuts already peeled – wonderful! – so I just have to boil them. To do this even quicker you can also use the already cooked ones sold in a vacuum or, for the bravest ones, to start right from a nice walk in the woods, prick your hands with the curls and then patiently peel the chestnuts one at a time. But if you like these autumn gifts try these capresine, it's worth it! Maybe accompanied by a sprig of whipped cream and a hot chocolate …
Chestnut mini-capresi
Original recipe from  Sale&Pepe
Ingredients for about 6-7 pieces:
250 g boiled chestnuts
2 eggs
140 g sugar
80 g butter
a pinch of salt
60 g almonds flour
40 g sweetened powdered cocoa
icing sugar to decorate
Blend the chestnuts and set aside for a moment. Melt the butter and let it cool. Beat the sugar with the yolks (I put three because the eggs were small) using a hand whisk, then incorporate the butter. Add the almond flour, sifted cocoa and salt. Now add the chestnuts. Separately, beat the egg whites until stiff and mix them gently with the mix. Divide the dough into buttered aluminum pans, filling them for about three quarters of their volume and cook at 180 ° C for about 25-30 minutes. Allow to cool, decorate with icing sugar and serve.