Can you smell it?
The scent, I mean 🙂
Nothing is like shortbreads to invade the kitchen with aromas…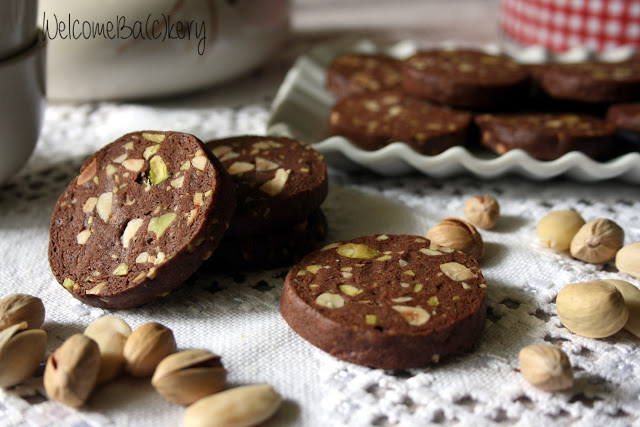 It's a fragrant shortbread pastry, adorned with pieces of almonds and pistachios: really a pleasure!
And they keep for a long time 🙂 As usual to obtain fragrant biscuits and not hard ones, the secret is the speed of preparation:   don't knead to much the dough, stop when is just uniform. And pay attention also to the temperature: butter and hands have to be cold!
And then have a good cup of tea and taste these cocoa and nuts shortbreads…
Cocoa and nuts biscuits
Ingredients for about 40-45 pieces:
370 g all-purpose flour
35 g unsweetened powdered cocoa
1 egg + 1 yolk
200 g butter, fridge temperature
125 g powdered sugar
1 teaspoon baking powder
200 g nuts (almonds and pistachios for me)
Chop the nuts and set them apart,
Sift in a bowl the flour, the cocoa, the sugar, the baking powder and add a pinch of salt.
Now add the butter cut in pieces, the egg and the yolk and knead until the dough is uniform. Add now the nuts and knead well.
Now divide the dough in 2-3 pieces and shape them in cylinder (4-5 cm diameter). Wrap them in plastic wrap and set in the freezer for about 1 hour.
Pre-heat the oven at 180°C, line a baking tray with parchment. Cut the cylinders in slices (4mm thickness) and place them on the baking tray.
Bake for 10-12 minutes. Let cool down on a wire rack. Keep in a tin box.