It seems that at last the summer has arrived! It's ice cream, no bake cheesecakes, semifreddi times… We dont' like so much the idea to turn on the oven! Wandering on Instagram I've been strike by this fresh dessert,  by Lucake (
here the recipe
).
In addiction of being easy, it's quick and catchy.
It's a dessert perfect at the end of a meal, quite light and not too sweet.
I've been stick to the original recipe, but next time I'll insert the jam in the inner too, so that I'll have a red layer in the heart.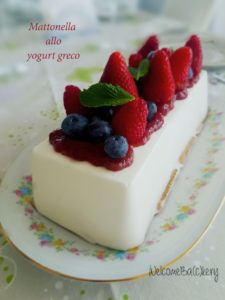 Greek yogurt semifreddo
INGREDIENTS
For the Mousse
140 g milk
120 g sugar
15 g gelatine
300 g fresh cream
500g greek yogurt
For the bottom
biscuits
For the decoration
Strawberry jam
mint leaves
strawberries and berries
Soak gelatin in cold water for about 10 minutes.
Heat the milk in a saucepan and dissolve the sugar. Let cool and add the gelatine, squeezed.
Mix and combine in a bowl with the yogurt. Whip the cream and add gently with movements from the bottom up. Pour into the mold and place biscuits on the surface.
Freeze for about 4 hours (I prepared the night for lunch the next day). Unmold the cake a few hours before serving, keeping it in the fridge until it has a mousse texture again.
Decorate with jam, fruit and mint.