I do not prepare many leavened products, apart from the usual bread. I must be in the right mood, I must feel it. Like when I decided to make this soft brioche. I looked at those two advanced egg whites and I thought about cakes and biscuits … then, out of nowhere, the desire for a brioche. To eat lukewarm at breakfast spread with jam. Ok, let's do a brioche!

The dough with only egg whites is a pleasure to feel under the fingers while kneading and then to taste of course! The result is a light, soft brioche, which keeps well for a couple of days if it is well closed in a bag or wrapped in film. Although it's at its best  when just warmed in the oven … For convenience I have shaped six balls to be placed in a pan and have the flower effect, but you can easily make individual "briochine" of the shape you prefer. And instead of brushing them you can only sprinkle with powdered sugar. And then close your eyes and sink your teeth …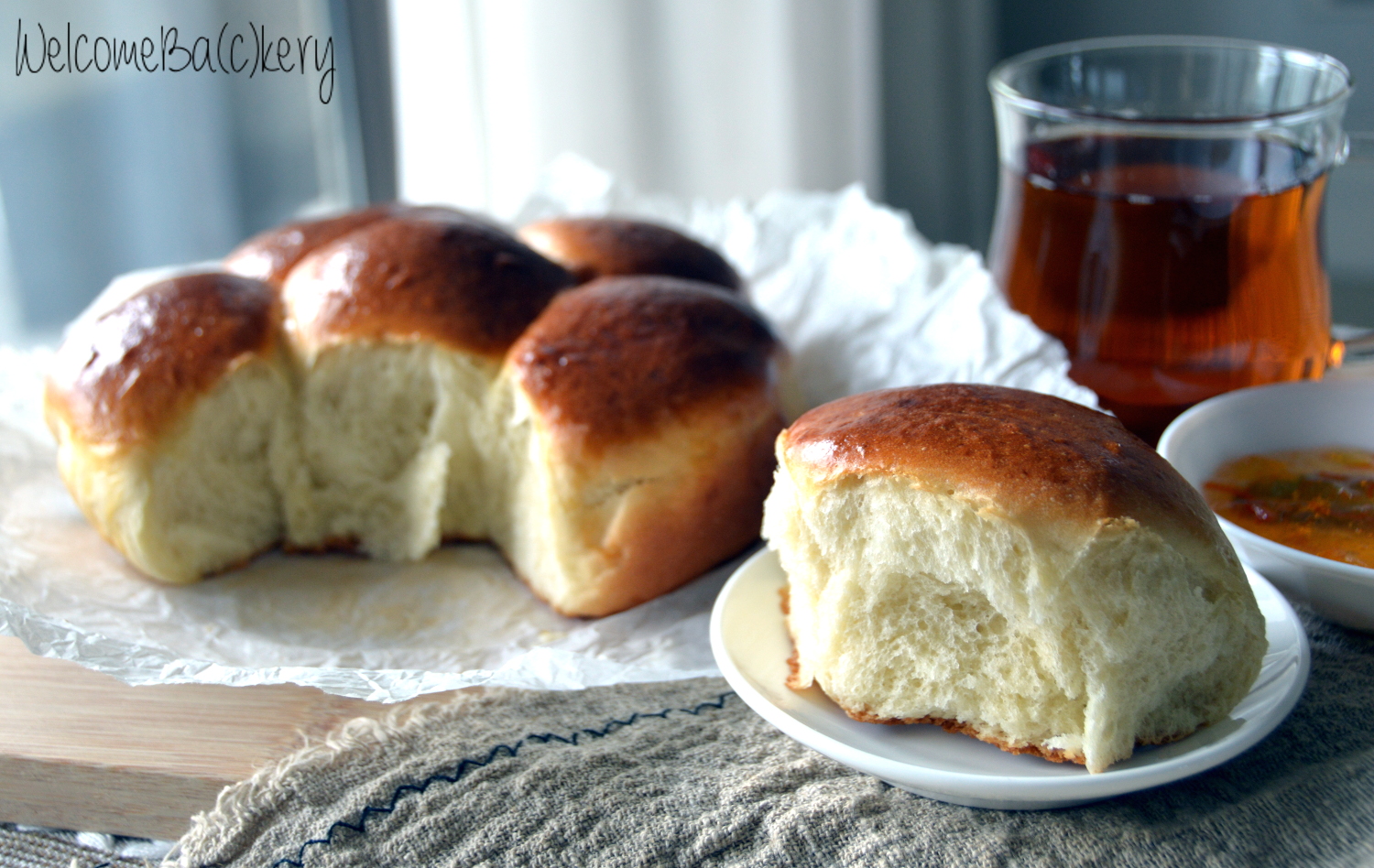 Egg whites brioche
Ingredients for a 22 cm pan
50 g sugar
250 g all purpose flour
50 ml whole milk
50 g butter, softned
2 egg whites (about 75 g)
1/2 teaspoon vanilla extract
4 g dried yeast
a pinch of salt
1 yolk with a spoon of milk to brush
In a bowl, work the egg whites with lukewarm milk, using a hand whisk. Add the yeast and dissolve it well, then add the sugar and vanilla extract. Combine the sifted flour and the pinch of salt and start kneading everything. Add the soft butter in a small piece at a time, making it absorb well before adding the next. Knead energycally until the dough is smooth, soft and shiny. Put it to rest in a lightly floured bowl, cover with a film or a damp cloth and let it rise in a sheltered place. The dough must more than double and the time it takes will depend greatly on the ambient temperature. Mine took about 5 hours.
Once well leavened, take the dough out of the bowl and divide it into six equal parts. Shape each piece of ball dough, bringing in the edges towards the center and popping it on the table. Place the balls in the mold covered with baking paper and let rise again for about 30-40 minutes. Meanwhile, heat the oven to 170 ° C. When the brioche is again well swollen and leavened, brush it with the yolk mixed with a spoonful of milk, bake for about 40 minutes or until golden brown. Let it cool before serving. Store tightly closed in a plastic food bag for a maximum of a couple of days. You can freeze it, defrost at room temperature and heat it in the oven before consuming it: it will be as freshly made!