Crunchy and irresistibly scented with coconut, cinnamon and rum: the coconut biscuits are sweets that I prepare very often.

Perfect to dunk in milk for breakfast, in a cup of coffee or in a glass of liqueur wine after dinner, like the cantucci.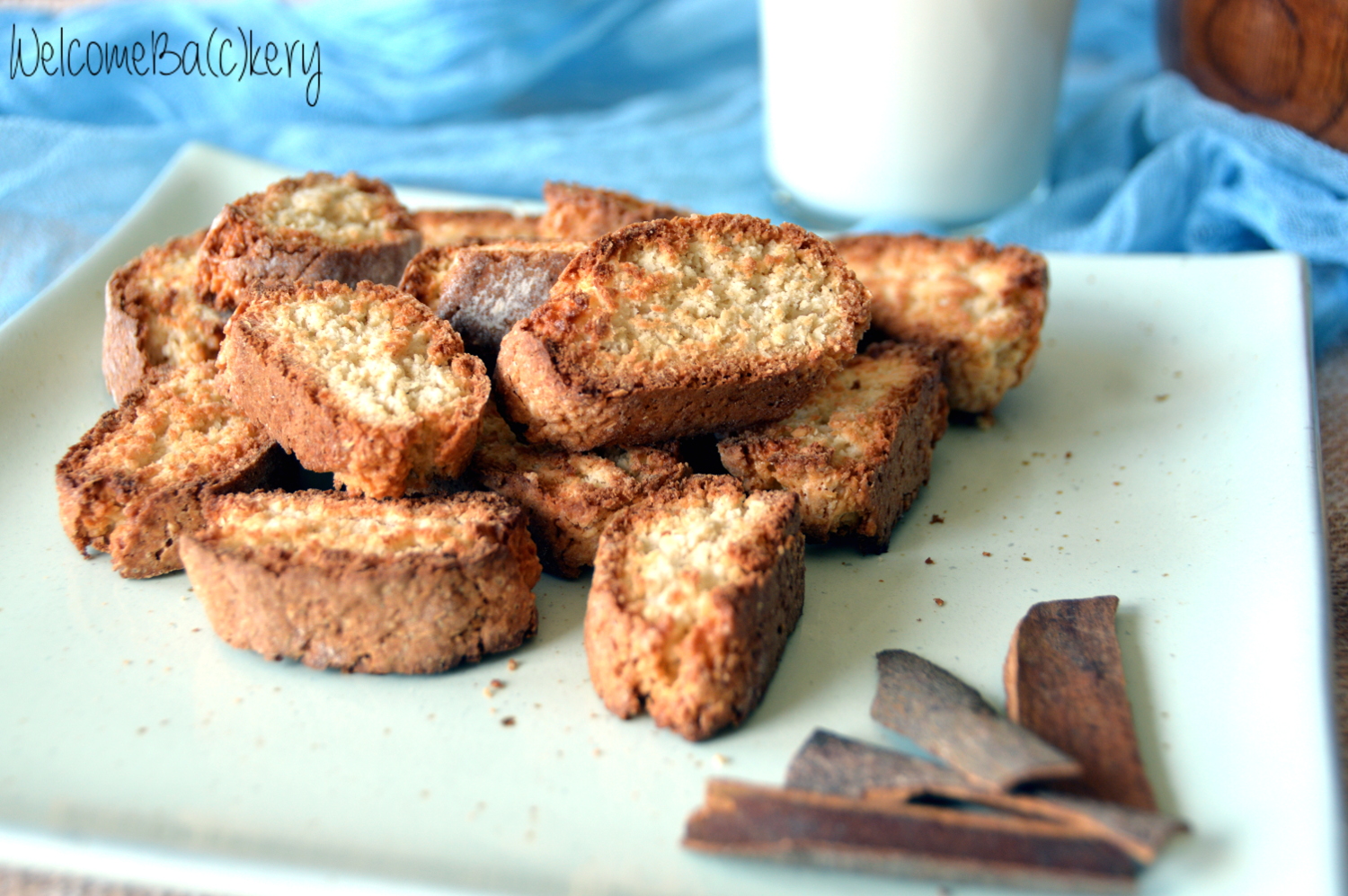 And in this period of holydays can be an idea for a gift, the best in my opinion: homemade and certainly not abandoned to take dust in a corner!
Just put the biscuits in a nice glass jar and it's done.
These then keep well for long and easily adapt even for those who are lactose intolerant: they are without butter and milk can be replaced with vegetable milk or even water.
And if the cinnamon does not meet your tastes why not replace it with orange zest?
With coconut and rum marries beautifully … I guarantee, I've already tried!
Coconut biscuits
Ingredients for about 25 pieces:
80 g coconut flour
200 g all purpose flour
1 egg
120 g sugar
ground cinnamon
1 teaspoon baking powder
a pinch of salt
1 tablespoon rhum
milk
Preheat the oven to 180 °C.
In a large bowl mix the sugar, flour, coconut, baking powder, salt and cinnamon.
Combine the egg and the rum and mix.
Now add a little milk and knead until a homogeneous and slightly sticky mixture is obtained.
Form two cylinders and flatten them a little, making them reach a width of about 5 cm.
Place them on a baking tray lined with parchment paper and cook for about 35 minutes, until golden.
Remove from the oven and let stand for 10-15 minutes, then cut into slices 1 cm thick.
Put the slices on the tray and bake for another 10 minutes.
Repeat the operation by turning them on the other side, until they are dry.
Allow to cool on a wire rack and store in a tin box.