In the cold season I measure tea and infusion by liters, not mugs.
So you will understand that there always be some cookie or biscuit to go with…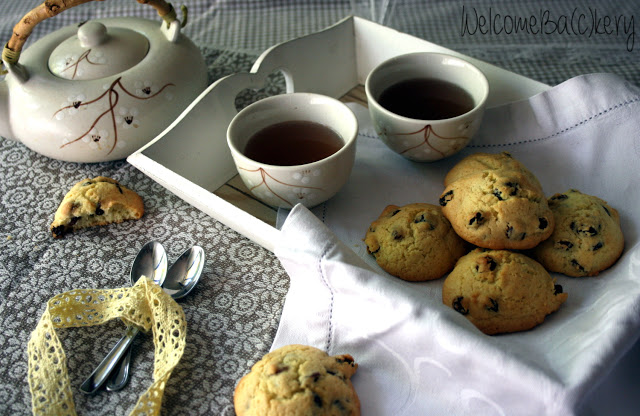 This kind of pastry are wonderful: buttery, fragrant and rich in raisin!
I prepare them often also for Christmas, to enrich the cookies little bags that I usually donate. Well closed they keep for a week.
Raisin biscuits
Ingredients:
150 g butter room temperature
150 g sugar
3 eggs, room temperature
300 g flour
75 g corn starch
250 g raisins
8 g baking powder
vanillin
a pinch of salt
Cream the butter with the sugar. Add the salt, the vanilin and the eggs, one at a time.
Add now the sifted flour, the starch and the baking, few spoonful at a time. In the end add the raisins.
Now, with the help of a spoon, place many little heap of dough on the baking tray, lined with parchment. Bake at 180°C for about 15-20 minutes, until the edges are golden. Keep in a tin box.