Back in Shanghai after a short Italian break, I found the summer exploding in all its hot humidity. And between jet lag, temperature and an empty fridge this mango and coconut soup was the first thing I prepared. That just a blender is enough and you don't have to cook anything. And with that exotic and bittersweet taste there are never leftovers even if I double dose …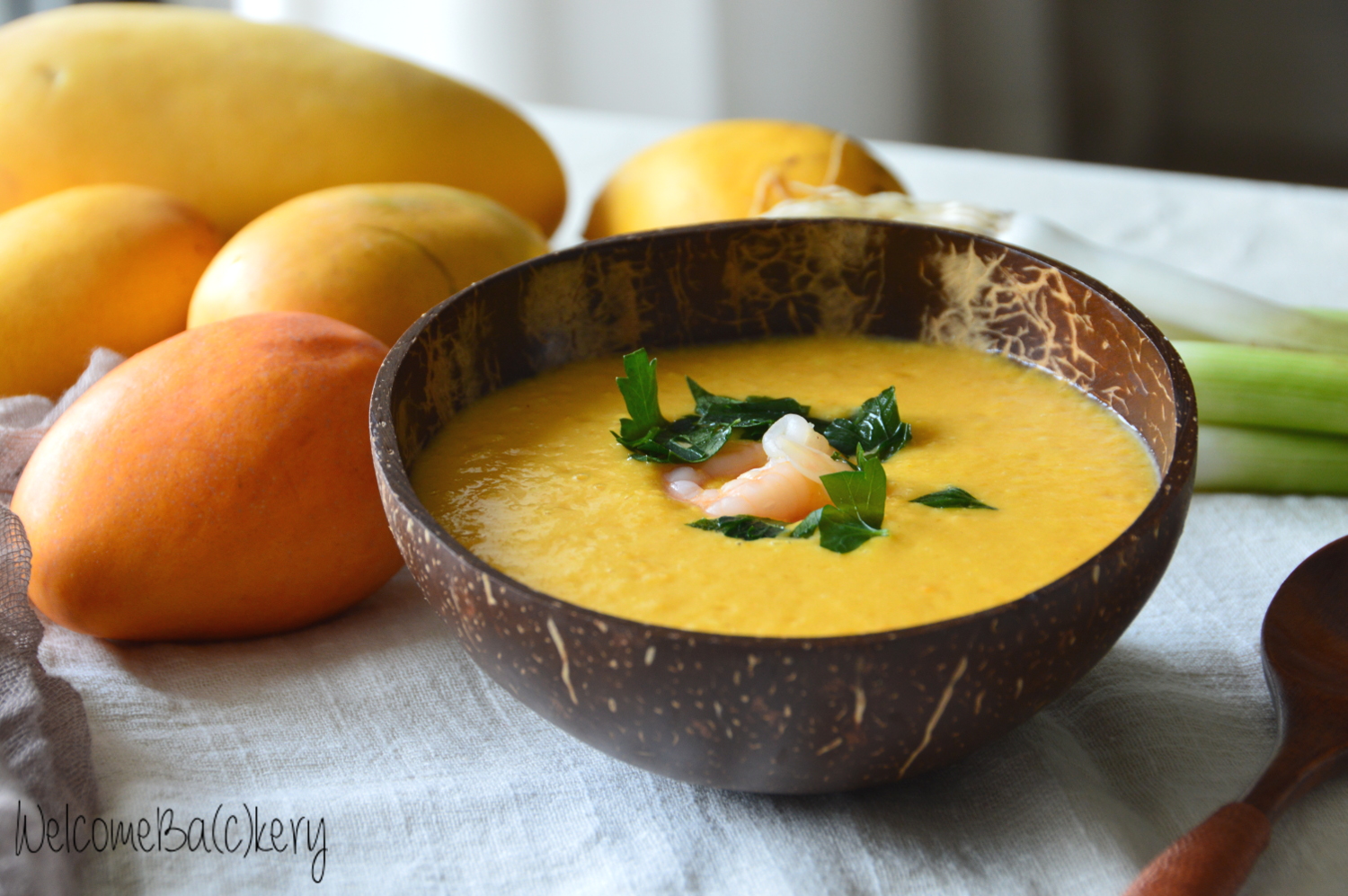 Here in Shanghai the mangoes – and in general the exotic fruit – are crazy, the best and tastiest I've ever had and I find them in many varieties. My favorites are the yellow eagle-beak ones grown on the island of Hainan, in southern China, sweet, very fragrant and with compact pulp. In any case, whatever variety you use, the important thing is that the fruit is ripe.
The recipe is actually a non-recipe, just blend all together and even for the doses you can adjust the shot according to your taste, especially with regard to ginger, lime juice and curry. But my advice is to not omit any of the ingredients: maybe the list can arouse some skepticism, but exceed it. And then continue to do it again.
I often serve it during the summer buffets, in the single-dose glasses, decorated with a nice shrimp or pieces of fried tofu for the vegetarian version, which I find here in Shanghai already cooked at the supermarket. And in my opinion this is the best way to serve and appreciate it. But the big pot is fine too, as does the undersigned …
Mango and coconut soup
Ingredients for 2 serves:
one big ripe mango
one spring onion, the white part
a piece of garlic
a little of powdered curry
150 ml of coconut milk
100 ml of still water
2-3 tablespoons of lime juice
a little of fresh ginger
salt
steamed shrimps
Collect the mango pulp, onion, garlic, curry, ginger and salt in the blender.
Blend until puree then add coconut milk, lime juice and stir again.
Now evaluate the consistency of the velvety and stretch with a little coconut water or natural water until you reach the desired consistency.
Add salt, lime and curry to taste.
Let it rest in the fridge at least an hour before serving.
Distribute the velouté in individual bowls and decorate with the prawns and if you like fresh parsley.