It' s been a while that I did not prepare a cake fom my breakfast, like the ones I love: quick, soft and moist 🙂
In the last period I just drew from archive! Then I saw this, a beautiful carrot cake, by the  good Enrica, and in a week I made it two times: one with simple powdered sugar for my morning tea, the other with a cheesy icing for and after-dinner with friends… always delicious!
Just try it, it takes only 5 minutes… to disappear too!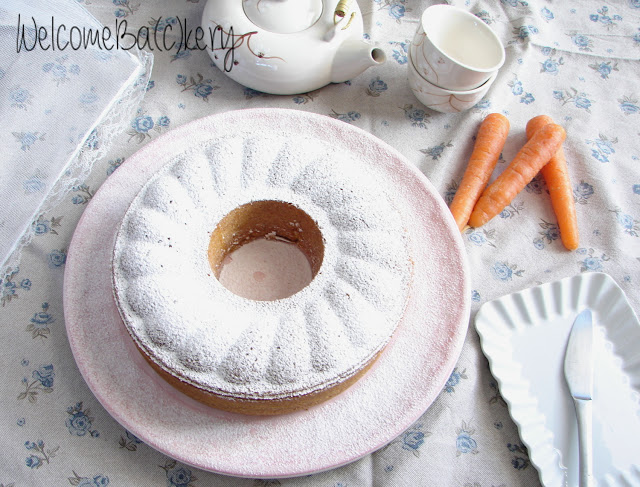 Carrot cake…. with blended carrots!
Ingredients for a 24 cm ring-shaped pan:
270 g carrots
3 eggs
220 g sugar
16 g baking powder
vanilla flavor
160 g seeds oil
240 g flour
to serve:
powdered sugar
or
150 g cream cheese
100 g powdered sugar
3 tablespoons milk
Wash and peel off the carrots, cut them in pieces and put them in the blender. Now blend adding the oil, until you'll have a cream.
In a bowl beat the eggs with the sugar for some minute, add the carrot cream and beat a little. Now add the sifted flour, the vanilla flavor and the baking soda and beat until the mix is uniform.
Pour the batter into the greased and floured pan, then bake at 180°C for about 40-45 minutes. Let cool down a little in the pan, then transfer on a wired rack. When is cold decorate with powdered sugar or with a cream cheese icing prepared mixing the ingredients all together.