I wonder if at some point you get used to life as an expat, jumping often between two Countries. Every time I come back to China after a period in Italy, it seems strange to find oriental ingredients and flavors familiar, to see that I've missed them. Wanting tofu bamboo, taro, dan dan mian, lotus root. Which in fact I bought with the first shopping and cooked immediately!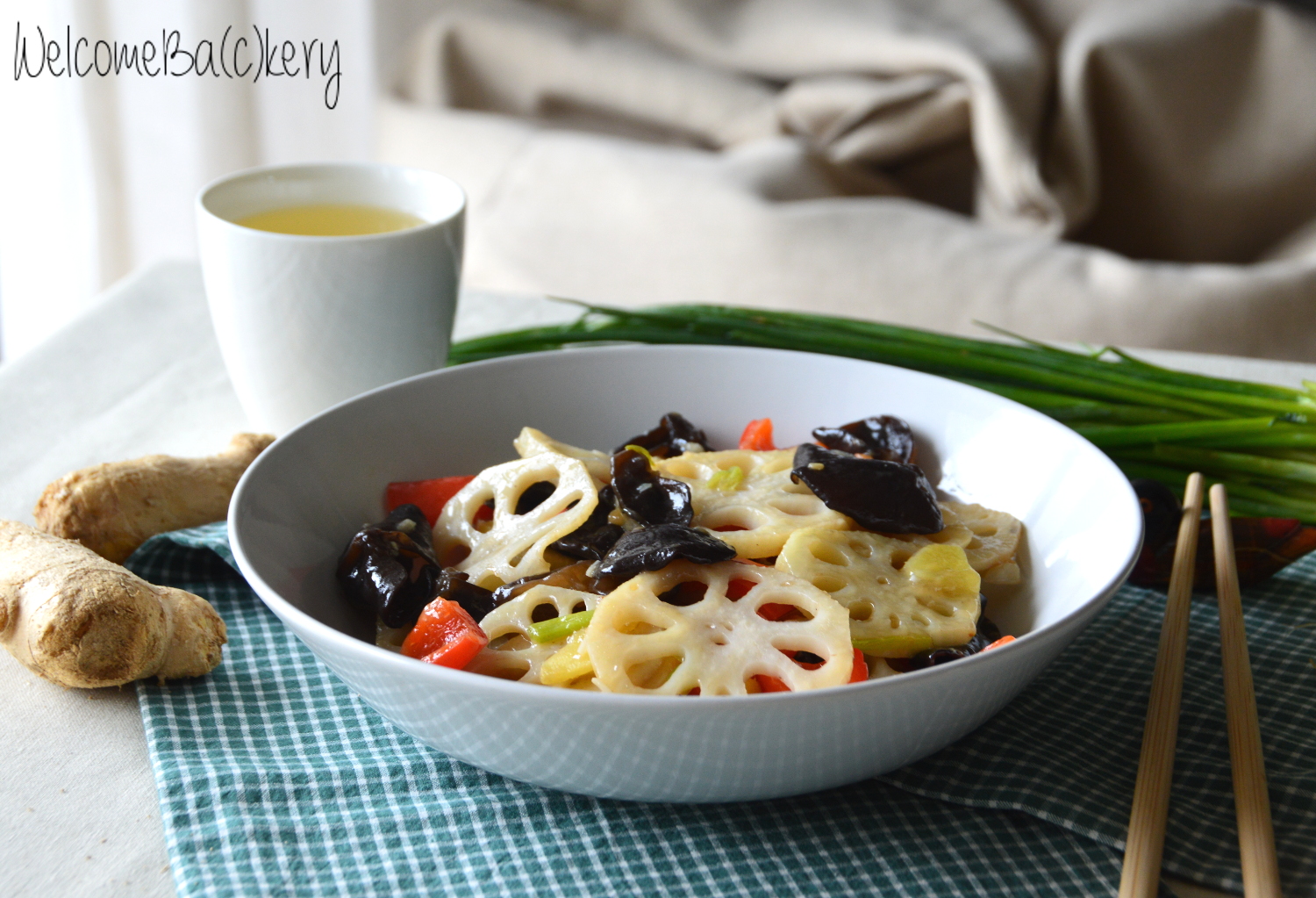 Lotus root is one of the most popular vegetables in Chinese cuisine, crunchy when stir fried, soft as a potato if boiled. Here in Shanghai it is often prepared filled with glutinous rice seasoned with honey. Today I present it to you in an easy, fast and rich in different flavors and consistency recipe, so easy that you can do it even when you are prey to the worst jetlag in history, like myself. If you have fun trying oriental dishes every now and then you will have all the ingredients at home. Otherwise you can find them in specialized stores. My advice is always to not omit or replace anything, to preserve the original flavors. But I also know who made the endive pizza with bok choy, eh?
I used a large iron wok, very convenient for this type of cooking, but a frying pan with high edges will do just as well.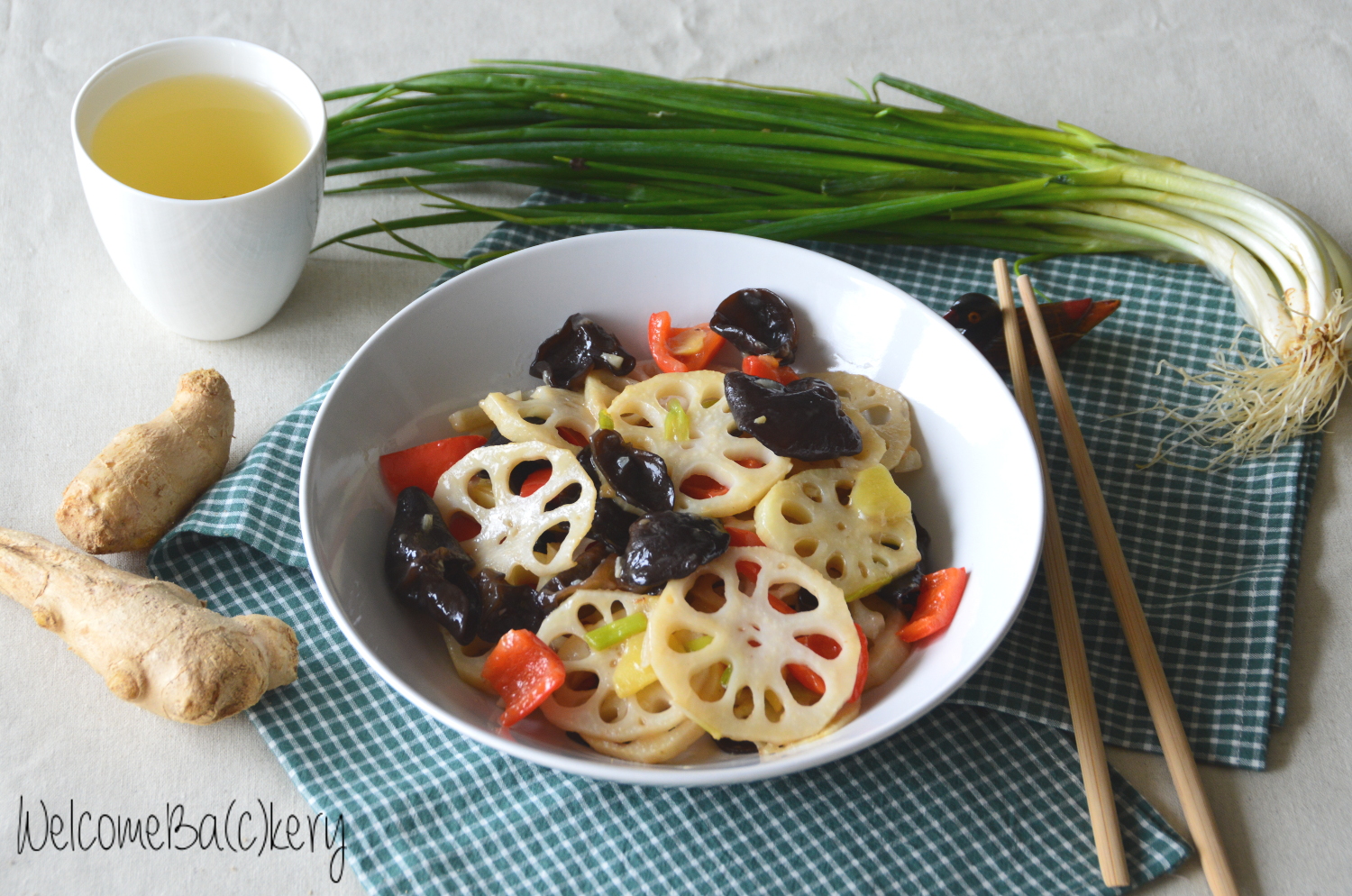 Stir fried lotus root
Ingredients for 4 serves:
340 g

lotus root

8

wood ear mushrooms

(rehydrated and cut in half or thirds)

1/2

cup

red bell pepper

(cut into small chunks)

1/4

cup

chicken stock

2

teaspoons

oyster sauce




1/2

teaspoon

salt

(or to taste)

1/4

teaspoon

sugar

1/8

teaspoon

white pepper

2

tablespoons

oil

6

slices

ginger

2

cloves

garlic

(minced)

2

scallions

(white parts only, cut into 1-inch pieces)

1

tablespoon

Shaoxing wine

2

teaspoons

cornstarch

(combined with 1 tablespoon water)
Prepare the lotus root by peeling them, trimming the ends, and thinly slicing them, until you have about 340g. Also prepare your wood ear mushrooms and bell pepper.
Bring a large wok or pot of water to a boil and blanch the lotus root, wood ears, and bell peppers for 45 seconds. Drain thoroughly and set aside.
Combine the chicken stock, oyster sauce, salt, sugar, and white pepper in a small bowl to create the sauce mixture and set aside.
Add the oil to the wok over medium heat along with the ginger. Cook for 30 seconds to a minute, and then add the garlic and scallions. Cook for another 20 seconds or so, and then add the blanched vegetables.
Stir-fry the vegetables for 1 minute. Then add the Shaoxing wine around the perimeter of the wok, followed by the sauce mixture. Cook for 30 seconds, until the sauce is at a simmer, and then add the cornstarch and water mixture, making sure the cornstarch hasn't settled.
Stir-fry for another 20-30 seconds until the sauce coats the vegetables, and serve.